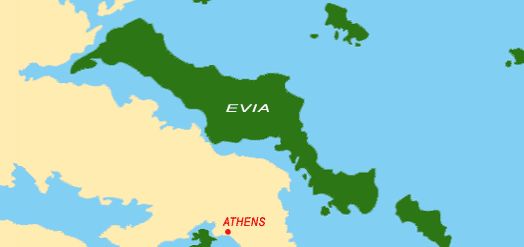 EVIA - THE SECOND LARGEST ISLAND OF GREECE
The island is the second largest in Greece, after Crete. Long and narrow, it stretches over the Aegean Sea very close to the Mainland and separated from it by the Gulf of Euboea and the famous Evripos Straits. A main highway and ferry-boats from several terminals form the links with this island, which is a centre of attraction for those seeking natural beauty and scenic variety.
There is something of interest to be seen at every turn in Evia. Towns brisk with tourist traffic or peaceful villages, apparently forgotten by time.
There are large fertile valleys and wooded mountensides where mounten-climbers can enjoy themselves as much as those opting, instead, for the attractions of the seashores with excellent sandy beaches, organized swimming facilities and charming secluded coves.
Amarynthos and Karystos are on two of the finest summer resorts on the island.
Appart from the enchanting beaches, they are surrounded by reminders of the islands ancient historical past like the Hill of Palaiochora and the Holy Monastery of Agios Nikolaos in Amarynthos and the ruins of the Buizantine Monastery,the old bridge , the famous Castle Rossoand the fort of Bourzi in Karystos.